Wednesday, January 9, 2019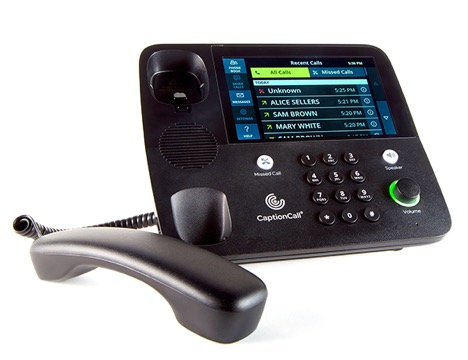 By Aimee Sterk, LMSW, MATP Staff
Caption Phones
Sitting in the doctor's office waiting for my daughter's name to be called, I glanced at the magazine offerings and a telephone caught my eye. At first I thought it was for patients to use to call for a ride after their appointment, but then I noticed it had a sign on it encouraging waiting room occupants to give it a try. It was a captioned phone. We were at the ENT (ear nose throat) doctor–many people coming to this office experience hearing loss. What a great opportunity to interact with some useful AT while waiting for an appointment!
My daughter's name was quickly called so I didn't get a chance to try the phone but it made me want to do a little more investigating. I did see the CaptionCall branded phone had a clear, large readout on the touchscreen. The screen said the phone also has a loud ring, amplification (on the website it says 58db of amplification) and other features like captioning in English or Spanish.
Harris Communications is a well-respected Midwest provider of products for people who are Deaf or hard of hearing so I decided to check their website for reviews and further information. According to the Harris website reviews and product information, captioning is provided via CaptionCall (and other brands of similar devices) for free via the funding from FCC. CaptionCall provides nearly instant captioning of calls through use of the phone which must also be connected to the internet. While reviews are overwhelmingly positive, there are some noted concerns mentioned at least a couple times—the quality of the speakerphone seems to be low and some people also mention the quality of the handset is also poor so that people with significant residual hearing are having a hard time using the handset and/or speakerphone. It also seems that while the captioning is good, upgrades sometimes are noticeable in a down tick in quality of captioning for some time. Also, the accuracy of the captioning for phone numbers and addresses has been lower. Some people also noted that Harris needs to notify CaptionCall when a phone is purchased for white glove support in delivery, set up, and connection and this did not occur. It might be better to purchase a captioned phone directly from the manufacturer to avoid these complications.
According to the CaptionCall website, CaptionCall uses advanced technology and a communications assistant to provide the written captions. The captioning is secure and encrypted. Free delivery and installation is provided by CaptionCall employees across the country.
All of the captioned phones on the Harris website are $75. Some have worse reviews thank CaptionCall (Clarity Ensemble Amplified Captioned Phone with ClearCaptions) and some are at about the same level (CapTel). On the CaptionCall website, if you qualify, the phone itself is actually free. On the CapTel website, there are three phone options depending on need/comfort with a touchscreen and they are $75.
Do you have a captioned phone? Has it been effective? Has the captioning been accurate? How is the customer service?